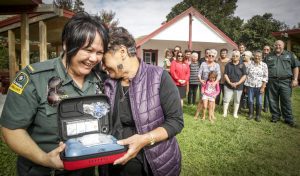 The mission of Ngā Tohu Whakaora e 3 (3 Steps for Life), is to empower members of the community
to step forward when help is needed and increase out-of-hospital cardiac arrest survival rates in
your local community.
In 2021, over 2,000 New Zealanders suffered a Cardiac Arrest in the community, with a total of 11%
surviving – 1 out of 10 people. But – 3 Steps for Life plan to increase those chances of survival in your
local community!
Delivered by Volunteer Community Educators, this programme is a free one-hour session and
consists of public awareness around basic CPR and AED training. It gives participants the skills and
confidence to take action in responding to someone in cardiac arrest by 1) Calling 111, 2) Starting
CPR, and 3) Using an AED.
Sessions are aimed at community groups such as sporting clubs, church groups, retirement villages,
marae and high schools – just to name a few!
Participants do not gain certification after sessions but are encouraged to become a GoodSAM
(Good Smartphone Activated Medic) responder through the GoodSAM app. Find out more here:
www.stjohn.org.nz/goodsam
Keen for a programme in your community?
Reach out to our team by emailing 3stepsforlife@stjohn.org.nz