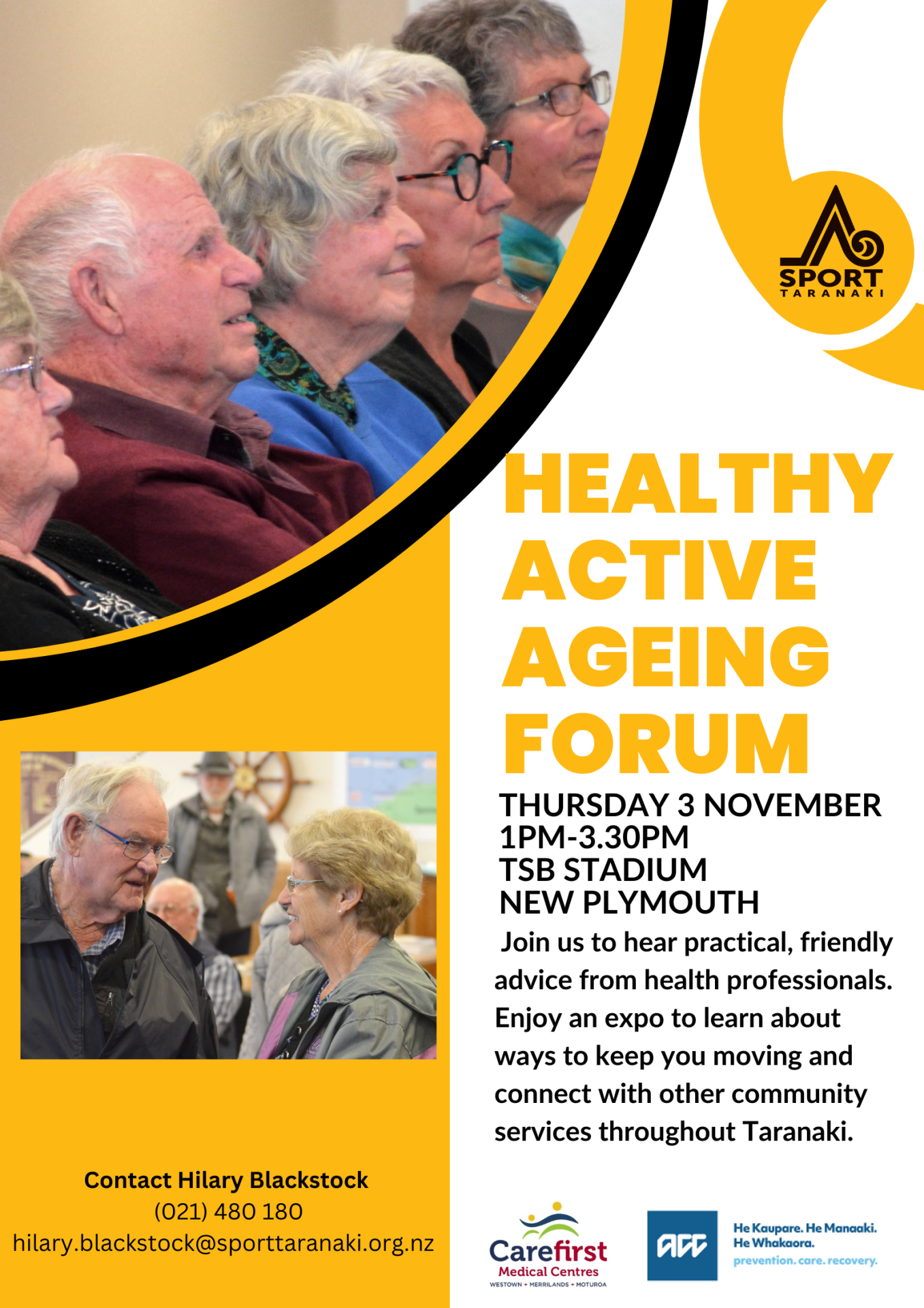 The Taranaki Local Falls Working Group(LFWG), consisting of ACC, Sport Taranaki, New Plymouth Injury Safe, Pinnacle Health and Te Whatu Ora Taranaki, are planning a Healthy Aging Forum, which is going to be held at TSB Stadium on Thursday November 3rd.   Our primary  focus is on falls prevention. For this forum, similar to ones we have run in the past. We have 4 key speakers with a focus on older adult health including a Nurse Practitioner, Physiotherapist, Dietitian and Pharmacist who will speak on relevant topics for 15-20 mins each with time for some questions.
We also have an expo after the speakers from 2:30 including a variety of relevant services, to provide a holistic experience for attendees.
We ran a similar event in 2020 which was very well attended despite the awful weather on the day.
Plan for the day : Attendees are able to listen to presenters first up then walk around expo and chat and connect with local service providers😊
Venue– TSB Stadium (Lower floor)
Audience – anyone older population 65+  or like age
Charge – Free for participants.
Structure afternoon time slot – 4 main speakers Nurse Practitioner, Physio, Dietician and Pharmacist 15-20 minutes slots . Talking with a focus on the older person
Expo – Set up around main speaking area and available for connection and support post primary speakers. A selection of support services from our community. We surveyed participants on who they would like to see and they listed a wide variety of people they would like to connect in with. We have invited all of these to have a presence.
Time – 1pm -2:30pm speakers
2:30-3:30 expo
No booking required
For more information contact Hilary at Sport Taranaki 021480180 hilary.blackstock@sporttaranaki.org.nz