Connect, Inspire, Learn – SADD/Kaitiaki o Ara empowering young Kiwis/rangatahi to prevent loss on our roads
Taranaki represent!   20 students and 3 adults travelled to St Patricks College in Silverstream on Saturday 15th to attend the 3 days Kaitiaki o Ara SADD conference.  Approximately 70 students from across the lower North Island and top of the South spent 3 days working collaboratively on future promotions, peer led activities and planning how to be a key partner in reducing serious and fatal injuries on NZ roads (Picture of the Taranaki students at conference).  Students from Te Paepae o Aotea, Opunake High School, Francis Douglas Memorial College, New Plymouth Boys High School, New Plymouth Girls High School, Sacred Heart Girls College and Stratford High School attended.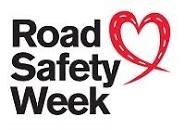 Be a Road Safety Hero this Road Safety Week!
Road Safety Week is coming up from 15-21 May and the theme is "Be a Road Safety Hero.  Roadsafe Taranaki is asking people to recognise others who help make our roads safe so if you know someone, ask if you can take a short 10-15 second video of them with their family, and give us a quick shout about what they do.  Email your video to info@roadsafetaranaki.nz. We are keen to put the videos up on our Facebook page to recognise the fantastic work a lot of people do to keep our roads safe; that could even be a 10-year-old reminding mum and dad to wear their seatbelt, a parent cycling with their child and both wearing helmets, to a local firefighter that puts everything down to get to the station and be at an accident scene to help save someone's loved one.