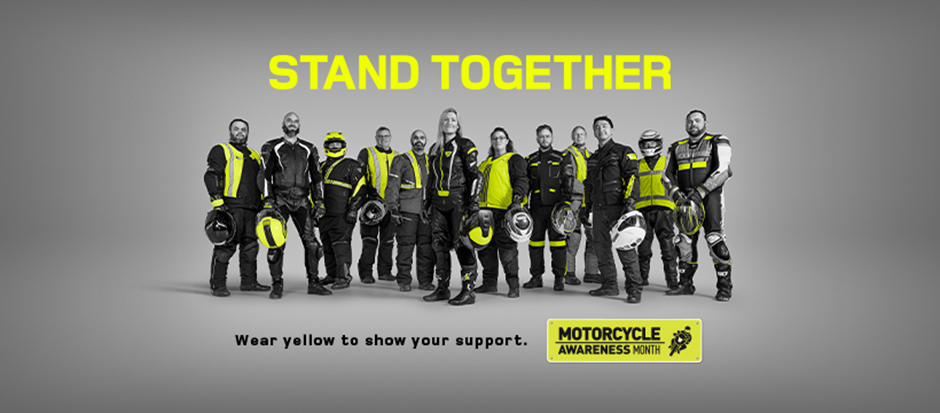 Spring signals the start of the motorcycling season
We see more than half of all motorcyclists start to get their bikes out of the garage and back onto the roads after winter break.
September is an important time to deliver key safety messages to riders, about what they can do to keep themselves safe and riding all summer long.
This year's Motorcycle Awareness Month (MAM) emphasises the bonds riders share with one another. It's about looking out for each other, literally as well as figuratively: standing together to celebrate their shared passion. The 'Stand Together' theme for MAM 2022 aims to reach more riders, encourage their support and raise awareness for motorcycle safety by donning yellow.
We're asking riders to wear some yellow when they ride, or even something under their riding gear so it can be seen when they stop for a mid-ride coffee. Bright yellow has always been an icon of MAM and it's also an excellent way of increasing visibility to other road users.
Coupled with raising greater awareness of motorcyclists on the roads, we will be sharing messages reminding riders to refresh their riding skills through Ride Forever coaching, ensuring their gear offers the right protection, and check their bike is in good condition before getting back on the roads.
Here in Taranaki, there will be two events to promote MAM.
03 September 2022, 9am-12pm at Image Motorcycles.
The first 50 people through the door will receive a $10 meal from Surf n Turf New Plymouth. Coffee will be served, bike checks from mechanics and giveaways and prizes to those who sign up to a Ride Forever course on the day.
10 September 2022 – 9am-12pm at Honda Hub.
The first 50 people through the door will receive a free Large coffee from VIBE Coffee. There will be catering available from Le Dejeuner and bike checks from the Honda Hub mechanics. There will be giveaways and prizes to those who sign up to a Ride Forever course on the day.
There are also national competitions and prizes to be won in the promotion of MAM:
Follow Ride Forever on Instagram and Win one of two $100 MTA vouchers
Like & Tag on Facebook and Instagram You and a friend will each win a $50 MTA Voucher – 10 to give away.
Share your Sunday Ride #safetysunday Win one of four $250 hear, tyres or bike servicing vouchers (retailer of your choice). One is given away each week.
Show n Shine "Muck Off" Post Bike on social media Win a MuckOff Bucket
Club Group Course Hold a Ride Forever course in your club before the end of October. Every member who completes the course gives your club a chance to win a $450 Mad Butcher BBQ Meat Pack to host a BBQ at your club.
Complete a course before 31st October $650 ready to ride prize pack – choose to get a service or new tyres. Start your season off right.