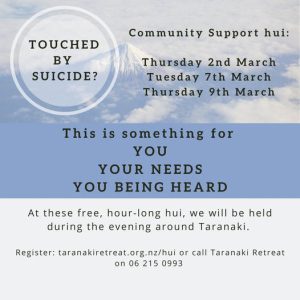 In late 2022, a group of people from various support organisations began exploring a plan to offer support hui in the community to awhi and resource those who have been impacted by suicide – particularly in response to whānau and individuals expressing their need, and sense of 'something needing to be done'. Accordingly, pānui extended the opportunity for people to express an interest. Many people did so.
During early March, our first round of community hui (around an hour long, followed by kai) are open for anybody who has been touched by suicide. We think about it as providing a 'watering hole' to gather around; provided by a wide range of local organisations working together.
At these hui, we will be:
Honouring you– your journey, and your courage in rocking up
Beginning with Karakia to acknowledge our loved-ones
Sharing resources, and helpful information on how to get through grief and support those around us with their grief
Offering the opportunity for a one-on-one convo with a Support Worker to share your story and line up supports that could be helpful
A time to light a candle in memory, if you would like to
Feeding back to you on our plans for our next steps together
Excellent refreshments
To make sure we have the right amount of kai and Support Team on hand, please we are asking people to fill in the registration https://taranakiretreat.org.nz/hui/ 
2nd March Ngāmotu New Plymouth
7th March Whakaahurangi Stratford
9th March Te Hāwera
If none of the dates work for you, please register and we will be in touch with Plan B.
This is something for you – your needs – and you being heard. We are very very much looking forward to hearing from you.
With aroha
Taranaki Suicide Prevention